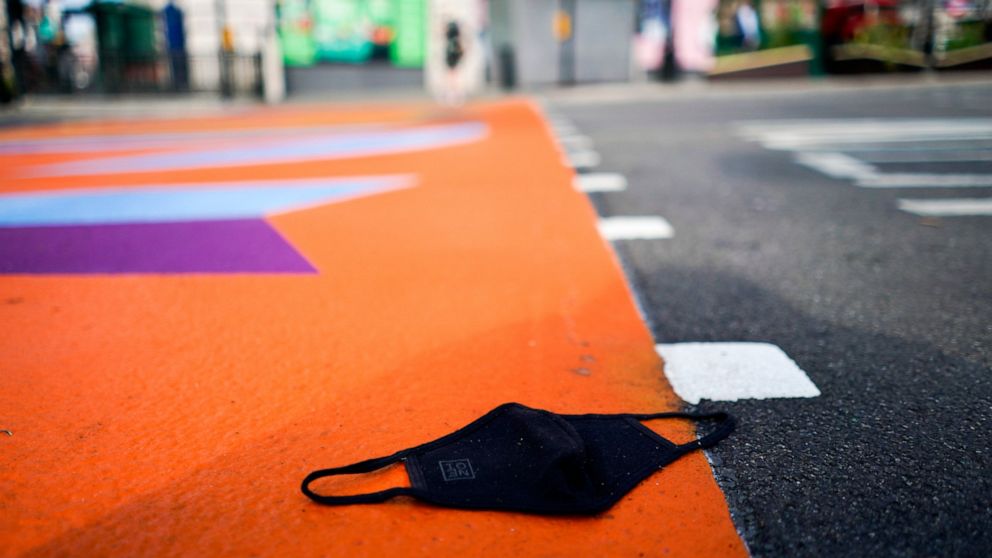 LONDON — Businesses in England warned Monday that a "pingdemic" of people receiving notifications on their phones telling them to self-isolate threatens to lead to widespread staff shortages and mayhem across the economy just as lockdown restrictions are lifted.
Though nightclubs and other entertainment venues cheered the lifting of all remaining restrictions on social contact, they are increasingly grappling with staff shortages as the National Health Service's test and trace app informs people they came into close proximity with someone who tested positive for the coronavirus.
Supermarket chain Iceland and pub owner Greene King had to close certain locations due to the self-isolation requirements affecting their staffs.
There are also warnings of shortages of goods in supermarkets, cuts in production at factories and potential transport chaos, as illustrated by Saturday's closure of the Metropolitan Line on the London Underground, due to key staff being pinged.
Mike Lynch, general secretary of The Rail, Maritime and Transport union warned that England's so-called "Freedom Day" could "very easily collapse into chaos day."
———
MORE ON THE PANDEMIC:
— Olympic athlete tests positive in Tokyo days before 1st game
— Scientists, many Britons, apprehensive as 'Freedom Day' arrives in England
— French Holocaust survivor denounces anti-vaccination protesters comparing themselves to Jews during Nazi era
— Vaccine inequity: Inside the cutthroat race to secure doses
———
— Find more AP coverage at https://apnews.com/hub/coronavirus-pandemic and https://apnews.com/hub/coronavirus-vaccine
———
HERE'S WHAT ELSE IS HAPPENING:
TEHRAN — Iran on Monday imposed a week-long lockdown on the capital, Tehran, and the surrounding region as the country struggles with another surge in the coronavirus pandemic, state media reported.
The lockdown — the nation's fifth so far — will begin on Tuesday and last until next Monday. All bazars, market places and public offices will close, as well as movie theaters, gyms and restaurants in both Tehran province and the neighboring province of Alborz.
Iran reported 25,441 new cases on Monday and 213 deaths over the past day, bringing the overall death toll to 87,374 from among more than 3.5 million confirmed cases in the pandemic.
During an earlier surge in cases, in April, Iran reported the highest daily number of cases, 25,582. At the time, its daily death tolls surged to around 400, below the grim record of 486 reached last November.
Iranian authorities have lately been warning about a new surge, fueled by the fast-spreading delta variant. In sanctions-hit Iran, which has the highest COVID-19 death toll in the Middle East, less than 2% of the population of 84 million has received both doses, mainly of the imported Russian and Chinese vaccines.
———
ISTANBUL – Turkey is warning its citizens to get second or third doses of COVID-19 vaccines to guard against rising cases involving the delta variant of the coronavirus.
"A rapid increase has begun in the countries around us. Particularly in countries such as Russia and Iran, the delta variant is currently dominant," Dr Nurettin Yiyit, a member of the government's coronavirus advisory committee, told the private Demiroren news agency. "Obviously there is a valid danger for our country as well."
According to Health Ministry data, 63% of adults in Turkey have received a first vaccine dose, while 33% have had two shots.
Thousands of Turks headed for vacations on the coast this week for the Eid al-Adha religious festival, raising fears of an oppotunity for infections to spread.
The health minister on Sunday announced 7,680 new confirmed cases over the previous 24-hour period, up from 5,261 daily cases a week earlier.
———
SEOUL, South Korea — The number of infected sailors on a South Korean destroyer on an anti-piracy mission off East Africa has soared to 247, the largest cluster for the country's military during the coronavirus pandemic.
The Defense Ministry said Monday two military aircraft have been sent to bring back all 301 sailors aboard the destroyer Munmu the Great.
Authorities suspect the outbreak may have started when the destroyer docked in the region to load goods in late June. None of the crew has been vaccinated against the coronavirus.
Health officials have said the crew are all in relatively good condition.
On Monday, South Korea reported 1,252 new coronavirus cases. It was the 13th straight day for South Korea to register more than 1,000 new cases.
———
LONDON — British Prime Minister Boris Johnson will spend 10 days self-isolating after contact with a confirmed coronavirus case.
The announcement by his office on Sunday reverses an earlier statement that unlike most people, he would not face quarantine. Johnson met Friday with Health Secretary Sajid Javid, who later tested positive for COVID-19. Contacts of positive cases usually have to self-isolate for 10 days.
Johnson's office initially said the prime minister would instead take a daily coronavirus test as part of a pilot project. And the same would apply to Treasury chief Rishi Sunak who also was contacted. But Johnson's office said later after an outcry that both men would self-isolate and "will not be taking part in the testing pilot."
———
PARIS — Global health experts say they expected vaccine distribution to be unequal between rich countries and poor countries.
But no one thought it would get to this point. Less than 1% of the world's poorest citizens have received a dose.
And experts say it could be 2023 until vaccines are widely available everywhere. That's fueling more infections and variants that could keep the pandemic around longer.
The African Union's envoy for vaccine acquisition compared the inequity of distribution to a famine in which "the richest guys grab the baker."
———
HONOLULU — Advocates in Hawaii say the pandemic has underscored the importance of collecting and reporting racial data.
Honolulu City Councilwoman Esther Kiaʻāina says the pandemic's toll on Pacific Islanders who are not Native Hawaiian inspired her to introduce a resolution urging Hawaii government agencies to collect more specific data about Pacific Islanders.
Kiaʻāina worked at the federal level to separate Native Hawaiian data from Asian data in the 1990s. That was prompted by concerns that Native Hawaiian students were considered overrepresented in colleges when counted as Asian.
But all other Pacific Islanders have remained in one category since then.